Netflix's crime drama, Ozark, featuring Jason Bateman, Laura Linney, and Julia Garner, dropped season 3 on March 27, 2020. It's two months later, and fans still cannot stop talking about it. Some viewers believe that Ozark is diving into the realm of a Game of Thrones level of popularity.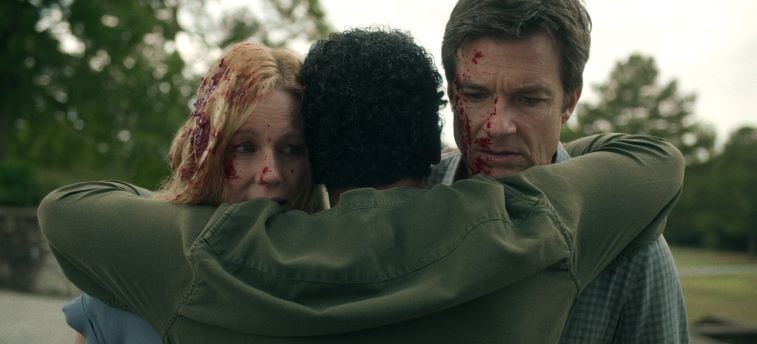 Fans feel that 'Ozark' could be the new 'Game of Thrones'
"Everyone is talking about similarities between Ozark and Breaking Bad, but I see a lot of parallels between this show and the Game of Thrones," one Reddit user wrote.
Although the two shows are set in totally different eras, fans point out that people are always plotting against each other behind their backs.
"Players are constantly switching sides," continued the Redditor. "People JUST DIE."
RELATED: Is 'Ozark' The New' Breaking Bad'?
The writers of Ozark have no qualms about killing off main characters, much like Game of Thrones. Each season of Ozark brings several new deaths, and fans are getting used to it. Some scenes mimic Game of Thrones, according to supporters.
"There was a shot of Helen [Janet McTeer] looking over her yard and the lake smoking a cigar, and that just screams Cersei Lannister (Lena Headey) drinking her wine," another fan added.
Fans also compared Frank Cosgrove Jr.(Joseph Sikora) to Joffrey Lannister (Jack Gleeson) as well as Darlene Snell (Lisa Emery) to Cersei Lannister.
'Ozark' beat 'Game of Thrones' in two Emmy categories in 2019
Many people were shocked at the Emmy wins that Ozark garnished over Game of Thrones in 2019. Ozark was nominated in five categories and won in two of those. Julia Garner won outstanding supporting actress over many Game of Thrones stars, according to Daily Dot.
Ozark's Jason Bateman won the Emmy award for outstanding directing in a drama series over three Game of Thrones directors' nominations. 
RELATED: 'Ozark': Jason Bateman Did Not Prepare for His Role as Marty Byrde
Of course, Game of Thrones does hold the title for most nominations at one award show — 32 in 2019. However, Ozark is only in season 3; whereas, Game of Thrones swept the nominations in their eighth and final season.
Critics also compare 'Ozark' to 'Game of Thrones'
Ozark Season 3 received a 97% rating on Rotten Tomatoes, and most reviews call it the best season yet. The series gets an overall score of 8.4 out of 10 on IMDb.
"These bright exteriors contrast with dark interiors, symbolizing the Byrde family living in shadows," WTop reported. Casual fans might complain it's too dark like Game of Thrones, but cinephiles will hail the muted palette as a nod to Prince of Darkness cinematographer Gordon Willis."
RELATED: 'Ozark': Does Season 4 Have a Release Date?
While Ozark might have a long way to go to earn itself 32 Emmy nominations, it is quickly gaining in popularity. It nearly tripled its viewership on the first day of its season 3 premiere versus its season 2 premiere on August 31, 2018.
Fans of the show hope Ozark is heading into a Game of Thrones level of popularity. All three seasons of Ozark are currently streaming on Netflix.
Source: Read Full Article